Yorkshire International Quarantine Centre is situated in a peaceful setting in the Yorkshire Countryside, nestling in the Yorkshire Wolds.
We are located just off the main York to Hull road (A1079). York is just 15 miles and the port of Hull is 35 miles from our centre. We have a very good reputation and have drawn clients from all four corners of England, Scotland and Wales. Our centre is relatively new and built to a high standard - they are substantially larger than the Ministry of Agriculture requirements - with each kennel and cat cabin fully heated.
Visiting is simple: you do not need an appointment to visit.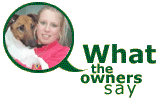 The visiting hours are between 12.00 to 4.00pm 7 days a week, earlier times can be arranged by appointment only.